Seeds to Sow in September – resources list
What to sow in September. For many gardeners September marks the start of autumn. Food crops are harvested and also the garden starts to shut down for the winter. Growing beds are cleared and put to rest for the next few months. However, there are plenty of seeds that can be sown in September. Because this gives the opportunity for a continued supply of fresh vegetables through the coming months and early next year.
Below is an at-a-glance guide with links of where the seeds can be purchased (updated in August 2021). I have listed seed sources for USA and UK. At Byther Farm we grow most of the fruit and vegetables we need to feed our small family each year.
Until our recent relocation to Carmarthenshire I also ran a small veg box scheme. I plan to start a new market garden in 2022 and offer veg boxes again as a CSA (Community Supported Agriculture) project.
Together with these monthly articles, I also publish a video guide of what to sow in that particular month. If you haven't already subscribed to my YouTube channel, you can do so here. I publish a new video weekly offering hints, tips and ideas for gardening and preserving food.
For a full list of all the productive plants, fruit, vegetables and herbs that we grew in Monmouthshire , see our what we grow page.
Seeds in UK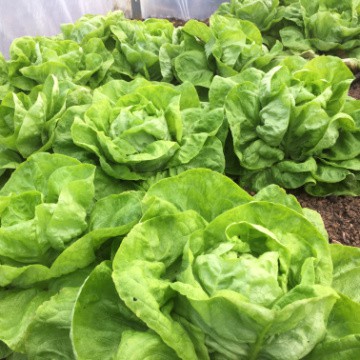 Broad Bean – Aquadulce Claudia We find these a welcome early addition to the vegetable garden. Beans sown now will grow into young plants that will overwinter in the soil and get off to a good start when the temperatures warm in spring.
Spring Cabbage – April
Lettuces – Organic Winter Density or Lollo Rossa Mixed
Spring Onions – Performer
Overwintering Onions – Senshyu Yellow Globe
Peas – Meteor (first early)
Potatoes – Pentland Javelin (labelled as 'for Christmas harvest'
Organic Summer Radishes – Sparkler or Mixed colours
Winter Radishes – Red Meat or birra di monaco – muncher bier
Organic Spinach – Giant Winter
Salad Leaves – Oriental Ruby Streaks or Mustard Green in Snow or Organic Mizuna
Turnips – Organic Purple top White Globe or Organic Golden Globe or Snowball
---
Veg seeds to plant in USA
(Disclosure. Some of these are affiliate links. In other words, if you make a purchase we may earn a small commission. View our full disclosure statement)
Spring Cabbage – Copenhagan Market Early (can be sown now for late year harvest)
Chinese Cabbage – Peking Napa
Lettuces – Organic Winter Density
Spring Onions – White Lisbon or Organic White Nebraska
Overwintering Onions – Senshyu Yellow or Ruby
Potatoes –
Summer Radishes – Organic mixed colors
Winter Radishes – Organic Red Meat or China Rose
Winter Spinach – Organic American Spinach
Salad Leaves – Mustard Tendergreen or Red Giant
Organic Turnips – Purple Top White Globe or Golden Ball
---
Watch the video What to Sow in September.
Vegetable seeds to sow in September and plant in autumn for continued harvesting. Resources list for USA and UK.
You may also want to look at what to sow in August and seeds to sow in October .
Latest posts by Liz Zorab
(see all)