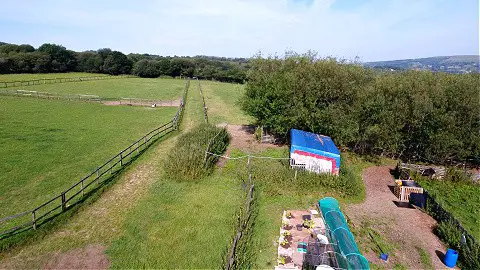 About Byther Farm
The new site of Byther Farm is in beautiful Carmarthenshire countryside. Over the coming years, we will develop it using permaculture practices. There are plans for a food forest, market garden, cut flower field and home vegetable garden. Livestock to include ducks, pigs and sheep.
Our previous homestead
Byther Farm in Monmouthshire was a 0.8 acre homestead – a smallholding in the UK – was designed using permaculture. The gardens produced approximately 85 per cent of the food and drink consumed at the kitchen table. It was home to Mr J and Liz Zorab. Liz ran courses in gardening and homesteading. She also writes, hosts a podcast (Gardening Demystified) and has a successful YouTube channel, Liz Zorab – Byther Farm. A local veg box scheme, run as a Community Supported Agriculture (CSA) project, was successfully piloted in 2019.
We moved to Byther Farm in late 2015 to start a new life together. A gentler, greener lifestyle of sustainable living that would nurture our physical and emotional needs to live more with the rhythm of nature.
How We Grow
We choose natural methods to grow an abundance of fruit and vegetables – without using mass produced 'chemicals'. And we raise chickens, ducks and turkeys which are fed on organic feed. They are given the freedom to roam on pasture areas and to express their natural behaviour.
We enjoy the freedom and resilience that this lifestyle offers. We are happy to do the hard work required for this level of self-sufficiency.
Recording Our Story
When we moved to this little homestead, I decided to keep a record of our daily lives. And also our progression through the years. Partly this was to share the experience and to have the record for us to look back at and enjoy.
Audio and visual
I started by writing a garden blog, excerpts of which will appear on this website. After a year or so, I started making a video record of life on our homestead. Since then the YouTube channel Liz Zorab – Byther Farm has grown and developed. It now offers gardening instructional and tutorial videos together with vlog style videos and some social commentary. In 2020 I added a podcast to further explore gardening and growers ideas and knowledge. And I have now written my first book, Grounded – A Gardener's Journey to Abundance and Self-Sufficiency. – Liz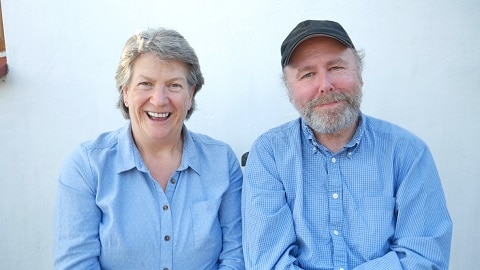 Meet Liz
Liz works full time on the homestead and as a content creator in various media. Her love of gardening started as a small child, but blossomed when she left home. In her own garden, she found joy in propagating plants and growing food for her family.
Working in the community
She worked for twenty years in the charity and community sectors including community development and strategic planning. Liz has a particular interest in innovative practices and promoting volunteering opportunities. She developed (with Fair Shares in Gloucestershire) the first Time Bank in the UK. And also the first mass employee volunteering project, Hands On Bristol (with Community Service Volunteers – now called Volunteering Matters).
Recent work history
More recently she worked in marketing and community liaison with Bristol Rugby Club, now known as Bristol Bears, developing and managing the youth supporters' club, and event-based fundraising with its charitable foundation.
At her happiest when pottering in the garden, Liz now manages the fruit and vegetable gardens and food forest at Byther Farm. Liz is available for talks and presentations about gardening, growing for food security and self-sufficiency.
Meet Mr J
Mr J works off-site for part of the week and works with Liz on the larger and cumbersome farm projects. He also manages the renewable resources projects at Byther Farm. These include maintenance of the reed bed water system.
He is a reluctant, but much appreciated, participant in videos, preferring audio productions.
Work history
Immediately before moving to Byther Farm, Mr J worked as the UK Operations Manager of an international behavioural research company.
Mr J describes himself as child of the Sixties and of suburban London. He has been involved in radio and the music industry for most of his working life. Further details and where to hear his radio shows can be found on his Facebook page, Titus Radio, here and you can listen to archived shows via Mixcloud (see below)
---