Cecily Chicken Salad – leftover chicken recipe
Using leftovers to create new meals is incredibly satisfying. There are lots of leftover chicken recipes (or leftover turkey) to be found because it makes sense financially to use all the available resources in the kitchen. Certainly I gain a huge sense of satisfaction in knowing that I haven't wasted food. And I find joy in creating a tasty and nutritious meal from what we have in the fridge, larder and garden.
My mother used to make her own version of Coronation Chicken for us. At Christmas she used leftover turkey. I have continued that tradition for my children, although nowadays I vary the ingredients to meet our dietary needs.
This recipe would be an ideal use for cold turkey following Thanksgiving, Easter or any festive occasion. My daughter asked for the recipe and so that I can show her exactly how I make it, here it is.  Therefore I'm calling it Cecily Chicken Salad.

This is a quick and easy dish to make and I use lots of leftovers, as a result it varies each time. Some ingredients I have in my fridge and larder all of the time. I follow a low fat diet, therefore I use fat free fromage frais and low fat cream cheese or fat free quark in any recipe that needs a creamy sauce. Likewise for frosting on cakes and as an alternative to cream on fresh fruit.
USING OUR LEFTOVERS
(Disclosure. Some of these are affiliate links. In other words, if you make a purchase we may earn a small commission. View our full disclosure statement)
Yesterday we had jacket potatoes with our supper, so I put a few extra potatoes into the oven, a couple to dice for breakfast potatoes and one to use with this recipe. It makes sense to me to fill the oven each time I put it on, with food that can be used later in the day or the next day or that can be frozen for use at a later date. I also baked some butternut squash and took a bag of roast chicken pieces out of the freezer, so they'd be ready to use today.
I wrapped the squash in kitchen foil and baked it for the hour that the potatoes were cooking. If I hadn't had the oven on anyway, I wouldn't have included the potatoes or the butternut squash in my leftover chicken recipe. I would have used leftovers of the vegetables we'd had with our meal last night.
Below the written recipe you can find a step by step guide, so I've included lots of photographs of how I made this dish.
CECILY CHICKEN SALAD

INGREDIENTS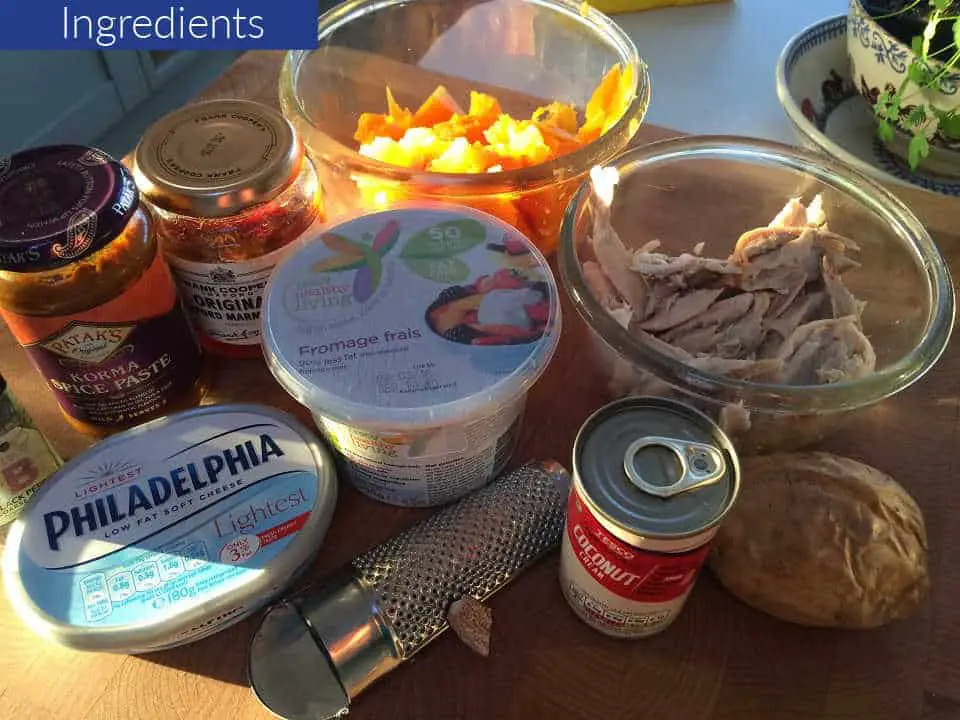 8 oz chopped Roast Chicken
1 large baked Potato, cubed
2-4 heaped tablespoons roasted Butternut Squash, cubed
1 small tub low fat Cream Cheese or fat free Quark
2 heaped tablespoons fat free Fromage Frais
1/2 tspn coarsely ground Black Pepper
1 & 1/2 tspn dark Marmalade Pinch fresh Nutmeg
Pinch fresh Nutmeg
1 heaped tspn Korma Paste
1 tablespoon Sultanas
Fresh Parsley and Pumpkin Seeds to garnish
Optional – 2 tablespoons Coconut Cream

METHOD


Put the low fat cream cheese, fromage frais into a large bowl.
Grate a little nutmeg over the mixture and add the black pepper and stir well until it becomes fairly smooth.
Mix in the marmalade and korma paste (and coconut cream if desired) until it's all incorporated into the cream cheese mixture.
Add the chicken and potato and stir until coated with the sauce.
Cube or gently crush the butternut squash and stir into the mixture together with the sultanas. 
Cover and leave in the fridge for a couple of hours for the flavours to mature.
Serve with salad leaves, ice salad, carrot and orange salad or any other salad that you find refreshing.
This leftover chicken recipe typically serves 4.
STEP BY STEP
We usually have most of the ingredients in our cupboards or fridge. I prefer to use freshly grated nutmeg using a special nutmeg grater than ground nutmeg, but either works. The pyrex bowls are the workhorses in our kitchen, I use them for everything from mixing to serving. The smaller bowls can often be found fairly cheaply in charity shops and thrift stores. I was lucky enough to inherit a large bowl from my mother.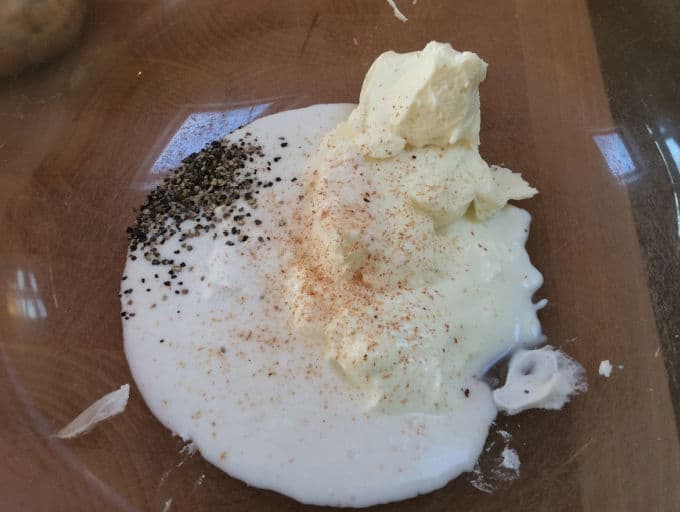 Put the cream cheese, fromage frais, black pepper and grated nutmeg into the mixing bowl and stir until smooth.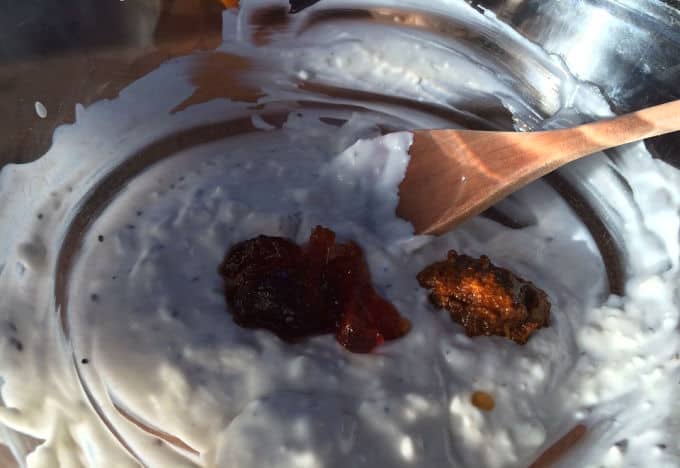 Add the marmalade and korma paste. Mix well.
I prefer using paste to curry powder as it is already blended in an oil and mixes more evenly through the sauce.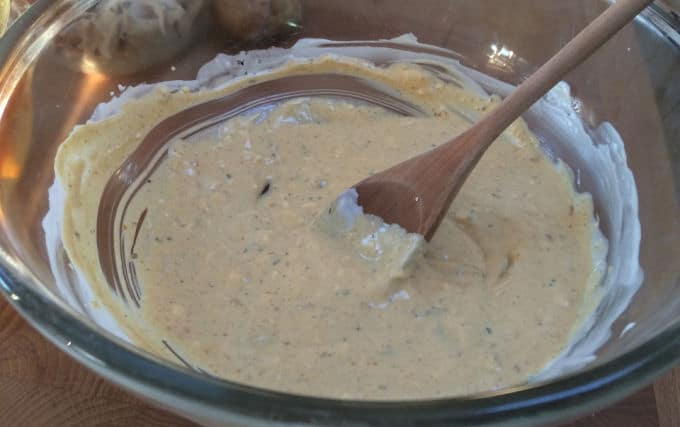 You can add coconut cream at this stage if you like it. I love coconut, however over the last few years I've developed an intolerance to it. So I now make this dish without the coconut.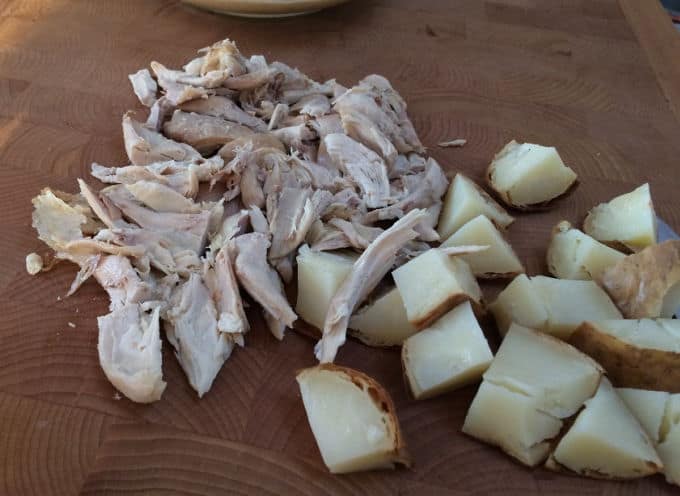 Chop the leftover chicken or leftover turkey, potatoes and any other cooked vegetables you have.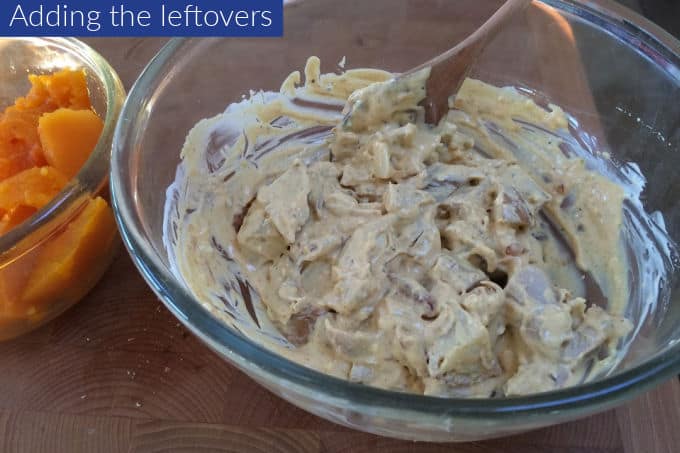 Stir into the sauce well to make sure that all the chicken and potatoes are coated well.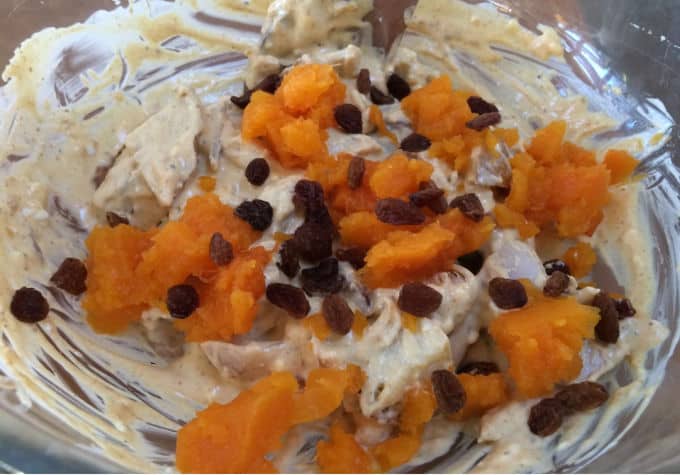 Add the crushed or cubed cooked squash and the sultanas, fold in gently to cover with the sauce. Serve with salad leaves, carrot salad or chunks of bread.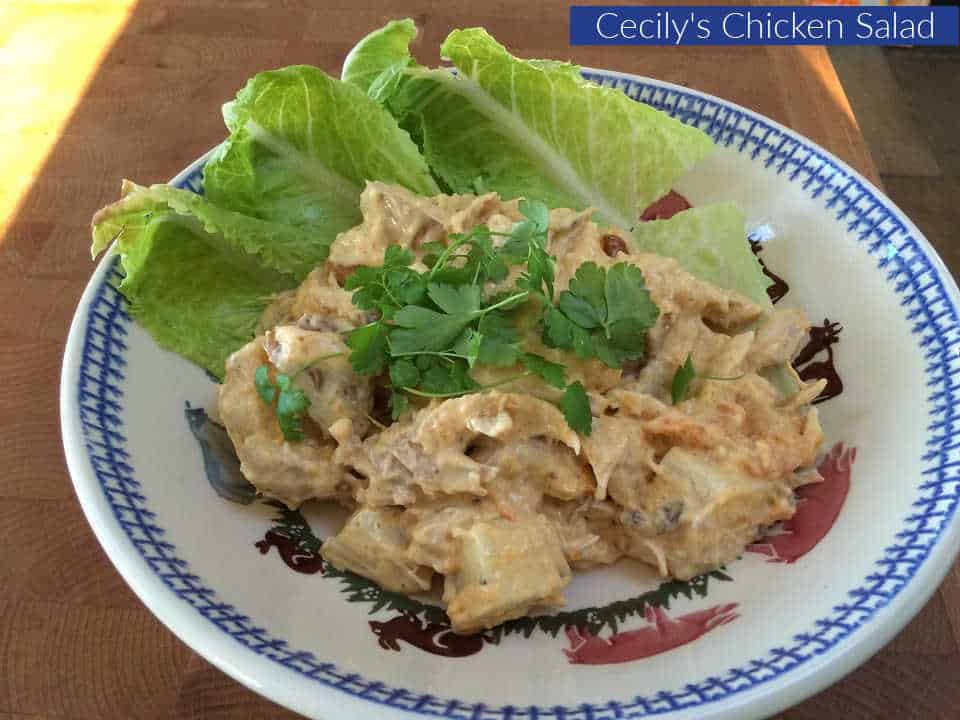 This is a very simple recipe that can be created the day before use and stored in the fridge. The flavours of the korma paste and marmalade will infuse into the leftover chicken or turkey and the vegetables giving the dish a deeper, stronger taste.
My daughter Cecily says 'It's the taste of family, childhood, Christmas and happiness all in a bowl of delight!'
VARIATIONS
You can use different joints of meat in this dish. It works well with cold boiled ham or gammon, omit the potato in the salad and served with a hot baked potato instead. It also works well with chopped hard boiled eggs and served with a rice salad. Alternatively, for instance, you can make a vegetarian option by adding more cooked vegetables and no meat.
I'd love to hear whether you tried this recipe for leftover chicken salad and whether you varied the recipe to suit what you have in your fridge.
Latest posts by Liz Zorab
(see all)