Polytunnel Review | Direct Plants Polytunnel Kit
About the kit
2019 Direct Plants sent a 14ft by 30ft polytunnel kit to review. It is a straight-sided polytunnel. This means that the sides are vertical for about 3 feet before they start curving to make an arched polytunnel. I really like this as it gives more space to be able to plant taller plants towards the edges of the tunnel.
We decided to have crop bars going across the width of the polytunnel. They are sturdy and used to support strings and canes as vertical supports for plants. Crop bars also support hanging baskets and guttering for growing peas etc.
One of the things that I really like about this polytunnel kit is the internal height,. It is over nine feet at the highest point. It gives plenty of space for the crop bars to be well above my head height and allows for the training of climbing plants overhead. Therefore, climbers are less likely to get entangled with plants growing vertically from the ground.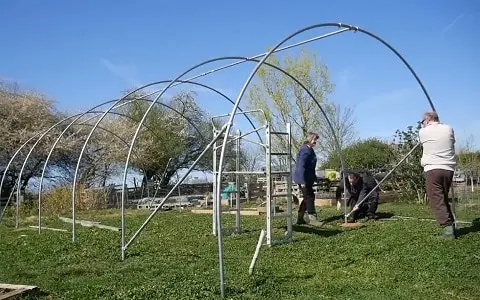 Construction
Construction was fairly straightforward, the instructions were clear and easy to follow. All parts were labelled clearly. The one thing I really wished had been in the kit was some repair tape. So I spoke to Direct Plants about this and they now include as roll of repair tape in each kit. You can see my video of the polytunnel construction here.
The poly covering of the tunnel is designed to be trenched. Trenching is the process of digging a trench all around the frame and burying the sides and ends of the sheeting in the ground. This anchors the whole polytunnel to the ground.
Ventilation is provided via the doors at each end of the polytunnel. The kit arrived with sufficient wood for a single door at each end, but I decided to purchase a little extra timber from a local supplier and have a single door at one end and double doors at the other. I chose to have the double doors opening outwards to give maximum growing space inside the tunnel.
2020 Polytunnel Review
We have been using the polytunnel for two full growing seasons and are still very pleased with it. We have been able to extend the growing season by planting earlier and later in the year than we can in open ground.
It has stood up to the storms and coastal winds that whip across our site without any problems. I have noticed that one of the door frame uprights has moved a little bit, but I think this is due to the poor quality of our soil which has eroded with the volume of rain water, rather than an issue with the polytunnel kit itself. Here's a video tour of the polytunnel from early 2020 following a couple of strong storms.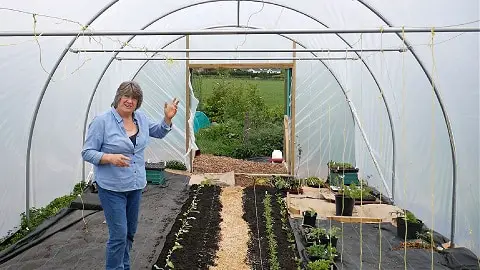 Latest posts by Liz Zorab
(see all)