Easy ways to save money in the garden | 10 simple ideas
Here are some easy ways to save money in the garden, without compromising on looks or taste. It's all too easy to get carried away and spend a lot of money in garden, especially in the spring when we are all keen to get outside and get growing again. Alexandra from The Middle-Sized Garden and I have got together to bring you some simple ideas and tips that could save you money in your garden.
Choosing the right plant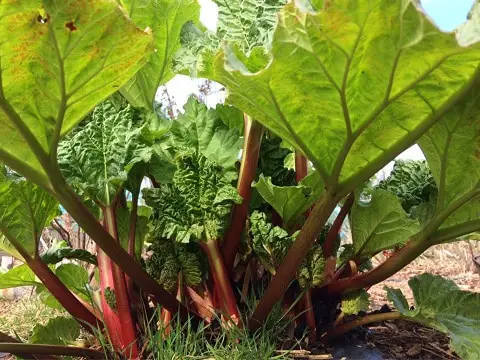 When choosing a fruit bush. Choose a variety that's been recommended to you, or that you know that you like. Buy the largest plant that you can afford within your budget. Then you can propagate and have more plants as well as have a crop on that bush. Propagating most fruit bushes is easy when you take soft wood cuttings. I know that this goes against the idea of buying small plants because they will grow quickly. They will grow quickly, but buying one larger plant and propagating from it, is likely to give you more plants for less money. Plus you get the fun of propagating your own fruit plants!
Currants
Currants grow particularly readily from cuttings. It is a simple process and one that gives great results quite quickly. I have made a video to show two ways to take cuttings of currant bushes.
Rhubarb
Rhubarb can be divided and the new clumps planted, although you'll need to wait until next year to harvest from a newly split rhubarb crown. This gives the rhubarb plants time to settle in, grow new roots and gather energy via its leaves from the sun, to produce lots of new stems the following year.
Stacking Functions
Make as much as possible multi-functional and layering those functions one on top of another.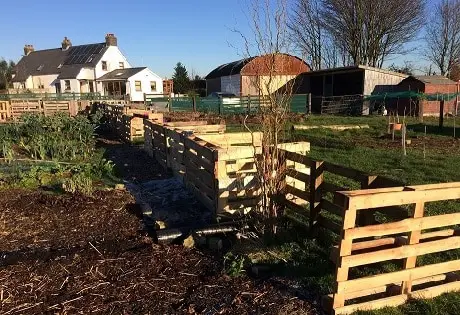 For example, when I wanted to create a fence around the vegetable garden, I used pallets. This gave me –
A vertical surface to grow climbing plants on.
A place to store bamboo canes, hazel poles, and garden hand tools.
It also allowed me to have compost bays.
The compost bays act as an additional windbreak for plants on the other side of the fence.
And I can grow plants like courgettes and pumpkins in the top of the compost while it's breaking down.
Using Leftover Seeds
Alexandra suggests not to sow all the seeds in a packet at once. Indeed, there are often so many seeds in a packet that some under-use is inevitable, after all, who needs 300 Brussels sprouts plants at a time? This will leave you with unused seeds. One of the great ways to save money in the garden is to use the leftover seeds to grow micro-greens.
Sow the leftover seeds on the surface of damp compost in a seed tray and cover lightly with compost. Keep them in a light, warm place like a windowsill, cold frame or greenhouse. Within a couple of weeks or so, you should have some young shoots to harvest as micro-greens. Don't throw them away after the first harvest, because they are likely to regrow, giving you a second harvest. You may get three or four harvests of microgreens from one tray of seeds.
Can I use any seeds for micro-greens?
You can use most veg seeds and some flower seeds. Cabbages, kale, salads, mustard leaves, radishes, beets, peas and many beans can be used to make microgreens. Commonly used flowers include nasturium, pansies and sunflowers.
Not all seeds are suitable for using as microgreens, make sure you check, either in a book or online to see whether the plants from your seeds are safe to eat.
Learn to Preserve
When you've grown an abundance of food, you may not want to eat it all as soon as it is ready to harvest. Learning ways to preserve the food means that you can grow plenty of fresh produce and then enjoy it at a later date. It doesn't need to be complicated, some of the ways to preserve food include
freezing
drying
making jams, jellies, relishes and pickles
canning or bottling.
There is something incredibly satisfying about preserving food. It is an easy way to save money in the garden and enjoy the fruits of your labor all year round.
Make Friends
On the whole, gardeners are incredibly generous. Happy to share knowledge, ideas and even seeds or plants. Making friends with other gardeners is probably the easiest way to save money in the garden, as you can learn by their mistakes and successes and swap knowledge and information. Be generous with sharing or swapping seeds, plants and harvests. We swap and barter seedlings, divided plants and harvested foods to increase the range of fruit and veg we have available to us. And as we do so, we also exchange companionship and friendship. Places to swap and share your garden seeds, plants and produce include –
local community group on Facebook – if there isn't one, set one up!
seed swaps
community and church fetes
local gardening groups
I've said it many times – I think that growing friendships is one of the most fulfilling aspects of gardening!
For 5 more hints and tips, check out Alexandra's ideas for savings in your flower garden on her blog, The Middle-Sized Garden.
More Money-Saving Ideas for the Garden
There are so many ways to stretch our budget in the garden and I'd love to hear your favorite ways. So now it's over to you, please leave your ideas in the comments and I will create another blog post to share your ideas. I will credit you with the idea and link through to your blog or channel, if you have one, (unless you ask me not to use your name).
---
(Disclosure. Some of these are affiliate links. In other words, if you make a purchase we may earn a small commission. View our full disclosure statement)
About The Middle-Sized Garden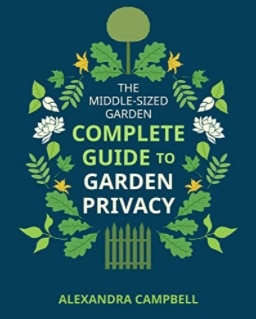 Alexandra had a career as a journalist and now writes and presents videos about her garden, which is predominantly ornamental, although she does grow some of her favorite easy-to-grow veg like beans, courgettes and salad. On her YouTube channel, she does garden visits and talks to head gardeners as well as sharing her experiences, successes and failures, in her own under half an acre garden.
The Middle-Sized Garden's most recent book, The Complete Guide to Garden Privacy is available via Amazon.
Latest posts by Liz Zorab
(see all)