Homemade potpourri is a great way to use the flowers we grow in our homes. Potpourri provides lasting fragrance. And a reminder of the warmer months, when gardens are filled with fragrant flowers.
What is Potpourri?
Potpourri literally means rotten pot. It describes the very early potpourris that were made using fresh flowers, rather than dried flowers. The fresh ingredients were layered with salt, then covered and left to cure. The few times I've used that method, I have ended up with a sludgy mess that hasn't smelled as nice as I would have liked it.
Far better, in my opinion, is the use of dried flowers and scented leaves to create a subtle-looking fragrant mix that is ideal for displaying in bowls and glass jars around the home.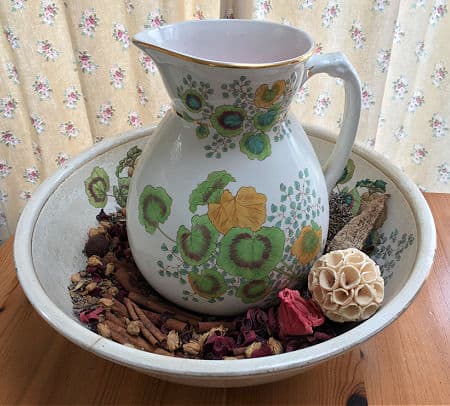 (Disclosure. Some of these are affiliate links. In other words, if you make a purchase we may earn a small commission. View our full disclosure statement)
Growing Plants for Homemade Potpourri
I grow fragrant plants right across the garden and yard. Alternatively, create a scented garden especially for growing your favorite fragrances.
Do I need a big garden to grow flowers for potpourri?
A scented garden doesn't need to be planted into the ground. You can easily group some of your most loved fragrant plants in pots on your patio or in an area of your yard. Choose plants that will flower at the same time, allowing a harvest of petals and scented leaves over a short period of time. Or select plants that flower at staggered times, providing color and interest in the scented garden over a longer season.
Drying flowers for use indoors
I have been drying flowers for use indoors for over fifty years. And particularly like using roses in potpourri for bedrooms and the living room, but in the dining room, bathrooms and kitchen I prefer the fresher and cleaner fragrances of citrus and lavender.
Among my favorite roses are Gertrude Jekyll from David Austin Roses, they have a strong scent and are a deep, rich pink. I grow several different color Monarda, as much for the dried leaves as the flowers, as well as lavender and lemon balm.
Shop bought potpourri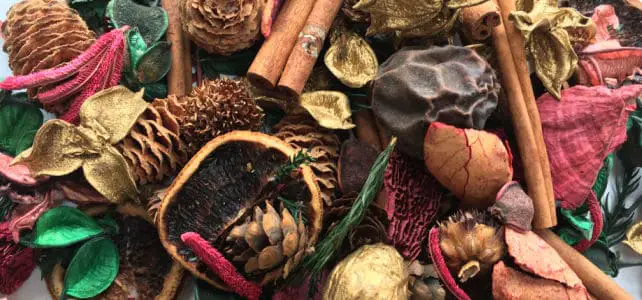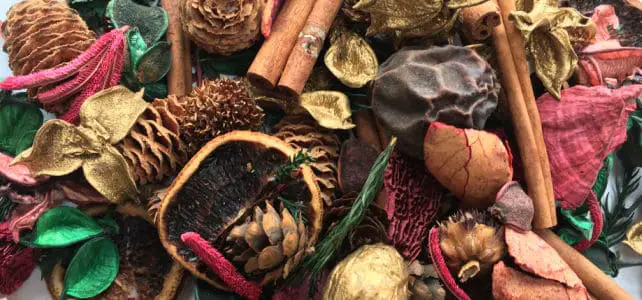 Shop-bought potpourri is available. It often contains wood shavings, pine cones and other woody matter like seed heads. I think they are attractive to look at, but I'm not keen on the dyes and colors used on the materials. I prefer home fragrances produced as naturally as possible. If you don't have access to enough flowers and scented leaves, they can be purchased, for example, these dried rosebuds.
How to Air Dry Flowers
The best time to pick flowers for drying is in the morning. Wait until after any dew has evaporated and the flowers look fresh and bright. Select flowers that are not quite fully open because they continue to open during the drying process.
Place the flower stems into small bunches and tie them with string, twine or a rubber band. Hang them upside down, spaced so that there is enough room for air to circulate around them. Ensure that they are in a place with a good air flow and are out of direct sunlight, otherwise the colors might be bleached by the sun. Over a period of weeks, as the flowers dry out, the colors will fade and the stems will be come dry. The flowers will have finished drying when the stems are brittle and break easily.
How to Air Dry Herbs
As with drying flowers, the best time of day to gather herbs for drying is in the morning after any dew has gone.
Gather the herbs and remove the leaves from the lower part of the stem. Secure the stems in small bunches with string, twine or a rubber band. Hang upside down, and as with air dried flowers, make sure that the herbs are spaced to allow air to flow around them. Dry herbs out of direct sunlight to help preserve some of the color of the leaves. The air dried herbs will be ready when the stems are brittle and break easily.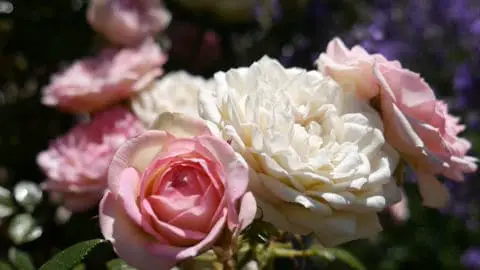 Basic Method to make Potpourri
Combine the dried spices and orris root powder. Add the oils, stir to blend well. Combine the flowers and leaves in a large bowl. Add the spice blend. Mix to ensure even distribution of the spices. Place the potpourri in a large, lidded jar or bowl and place in the dark to cure for six around weeks, stirring or shaking daily.
Summer Garden
1 tablespoon each of ground cinnamon, coarsely ground cloves and orris root powder
5 drops each of rose geranium oil and bergamot oil
3 cups dried rose petals
2 cups lavender flowers
1 cup each of lemon balm leaves and scented geranium leaves.
Lemon Zing Potpourri
1 tablespoon each of powdered allspice, ground ginger, coarsely ground cloves and orris root powder
5 drops each of lemon grass essential oil and citronella essential oil
3 cups lemon balm flowers and leaves
2 cups lemon verbena leaves
1 cup each of marjoram leaves and lemon thyme leaves.
Lavender, Lemon and Mint
1 tablespoon each of powdered allspice, coarsely ground ginger, coarsely ground cloves and orris root powder
5 drops each of lemon grass essential oil and lavender essential oil
3 cups nepeta (catmint) flowers and leaves
2 cups lavender flowers
1 cup each of lemon verbena leaves and mint leaves.
Heady Rose Potpourri
1 teaspoon each of powdered allspice, coarsely ground cinnamon and coarsely ground cloves
2 teaspoons orris root powder
2 drops each of chamomile, rose and bergamot essential oils
3 – 4 cups assorted dried rose petals
Create your own Combination
There is nothing that says you need to use a specific mix of flowers or herbs to create a homemade potpourri. Indeed, much of the charm of home fragrance is that the ingredients were grown in your garden and the potpourri is unique to your home.
So be brave, experiment and enjoy the results of your creativity!
---
Further Reading
You can also dry flowers quickly using a microwave, see this article to find out how.
Household Wisdom by Stephanie Donaldson
Can we ever be truly self sufficient?
Edible Herbs for Groundcover in Garden
Perennial Herbs in the Kitchen Garden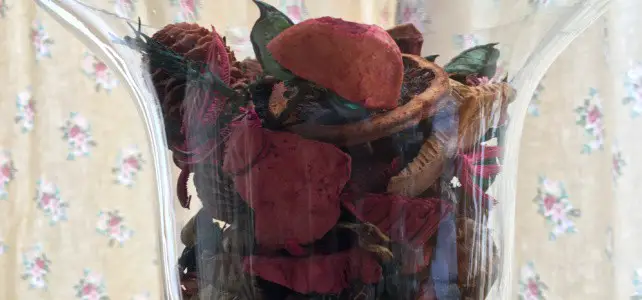 About the author
Liz works full time on the homestead, Byther Farm, and as a content creator in various media. Her love of gardening started as a small child, but blossomed when she left home. In her own garden, she found joy in propagating plants and growing food for her family.
At her happiest when pottering in the garden, Liz now manages the half acre fruit and vegetable gardens and food forest . Her first book, Grounded – A Gardener's Journey to Abundance and Self-Sufficiency was published in February 2021.