Grow Food Without a Garden | Homegrown Food
Wouldn't it be great if there was a way to grow food, even when you are without a garden to grow it in? There are some simple ways to add homegrown food to your diet from inside your own home.
In this article Maddy Harland, author, permaculturalist and editor of Permaculture Magazine shares some ideas for adding to your meals and how to grow food without a garden. Over to Maddy –
Everyone loves the idea of home grown freshly picked organic fruit and veg. It's more tasty, convenient and so much cheaper than the packaged organic products found in the supermarket. But not everyone has a garden, access to an allotment or even the time to devote to growing food.
If you are one of those people who want to increase your intake of nutritious fresh food and reduce your shopping bill, what easy things can you do to boost your diet?
My Indoor Garden
My favourite simple and quick way to better nutrition is to sprout grains and seeds on my windowsill. Besides the ubiquitous Chinese bean sprout, you can buy small gourmet packages of sprouted alfalfa and fenugreek, and radish seeds in the deli section of good supermarkets but it is so much easier and cheaper to do at home.
You either go out and buy a seed sprouter from any good health food shop or mail order supplier or, like me, you can make your own.
How to make a seed sprouter
I simply take a large jar that once held gherkins or pickled onions (ask your local chippie!), cut some dense net or old net curtain to amply cover the lid.
Add a handful of organic seeds and secure it with an elastic band.
Then I soak the seeds overnight, drain them and leave them to drain at the sink.
I use the rinse water to water my house plants – they like the nutrients!
Then, twice a day I rinse out the jar and leave it to drain.
I don't put it in full sun as that can burn the delicate sprouts and never let them dry out.
Depending on the size of the seed, your sprouts are ready within a few days but don't forget to put them in a colander to rinse away the husks once they are spouted as they can be unpalatable and go a bit smelly with age. These can be composted.
You can sprout all sorts of enzyme and chlorophyll rich seeds, beans and peas besides the ones already mentioned. Try green lentils, chickpeas, mung and aduki beans.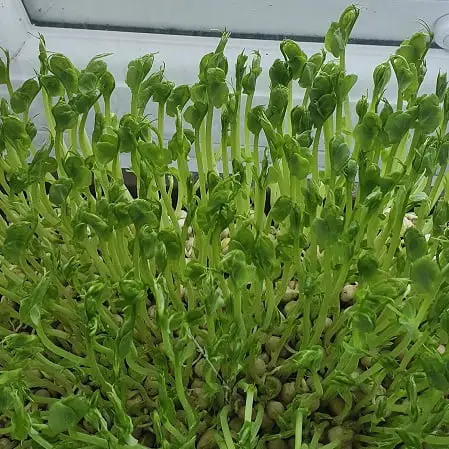 How to grow micro-greens on a windowsill
Indoor greens are good nutritious crops to grow too. We have all bought sprouted mustard and cress in little plastic containers. It's so easy to do at home so why not also try sunflower, buckwheat or wheat seeds?
Soak them overnight in a large jar and leave them for a day to germinate.
Then place on planting trays half full of organic compost.
Cover with newspaper and stack.
After about four days they will be well rooted and pushing up the newspaper.
Within a week you can harvest them by cutting the green shoots as close to the soil as possible.
Eat immediately.
You can also juice the wheatgrass in a special juicer to make a detox drink (but we careful not to overdo as they can initiate a 'cleanse').
How to grow salads without a garden
Besides sprouts, I like to grow 'cut and come again' salads. These are mixtures of salad plants – lettuce, endives and chicory (saladini) or mibuna, mustard red, pak choi, komatsuna, Chinese cabbage, mizuna (oriental saladini). You need either need a well lit windowsill or, in warmer weather, a patio or balcony. Simply add compost to a large flowerpot or container and sow your seeds. Remember that you can also grow basil and rocket in this way as well as cress and that there are other mixes available like the Italian, French and Gourmet mixes.
I like to experiment with more unusual leaf and herb varieties as well. Try lambs lettuce, purslane or burnet for a change.
Fruits
If you become thoroughly enthused, you could also grow bush and trailing tomato plants in containers and hanging baskets and mix them up with useful culinary herbs like oregano, thyme and marjoram. Once you get started the possibilities are endless and don't forget the flowers. Nasturtium flowers add a lovely touch to any home-grown salad and are easy to germinate. Try a dwarf variety in summer months in a container.
Alpine strawberries do well in well-watered containers and don't take up too much room.
Finally, the tradition of growing grapes on sunny arbours goes back to Roman times. There are some delicious seedless grape varieties available for our climate now. If you have the space, it is worth carefully selecting a variety to plant.
Maddy Harland is the editor of Permaculture Magazine – Earth Care, People Care, Future Care
Our thoughts on how to grow food without a garden
I send my gratitude to Maddy for sharing her hints and tips for indoor gardening. If you do have some outside space, whatever the size, it is possible to grow a few fruit, vegetable or herbs plants in tubs or boxes. For ideas of what you can sow this month, see our month by month guide to sowing.
Latest posts by Liz Zorab
(see all)