Making full use of vegetables
Ways to make full use of vegetables. Over the last few years I have come to realise how wasteful I have been with the precious resources in our garden. In our attempt to become more self-reliant and resilient I have been trying some different ways to make the most of space that we have by using more of each crop that we grow.
Most veg – use peelings (not onion skins), off-cuts and rejected leaves, roots etc. to make vegetable stock. This can be frozen to provide extra flavour for meals at a later date.
Brassicas
Brussels Sprouts – the tops can be eaten, they have a mild sprouty-cabbage flavour.
Kale – flowers can be eaten like a sprouting broccoli.
Sprouting Broccoli – leaves can be eaten (I prefer the small younger leaves).
Cabbage and hearting Lettuce – when you cut the cabbage or lettuce, leave the stem in the ground. It will usually regrow with several smaller ones, we eat these when they are small.
Root and Stem Vegetables
Beets – young leaves are great in salads. Older leaves work as an alternative to spinach or kale and of course the beetroot is delicious too.
Turnips – turnip tops can be eaten.
Carrots – the leaves can be eaten in salads (although I find them bitter), they can be cooked or added to stir fries.
Swedes or Rutabaga – the leaves can be eaten like spring greens.
Celery – both the stems and the leaves can be eaten. I chop and freeze the young leaves to add to dishes during winter.
Alliums
Onions – cut some of the green leaves, chop into small pieces and freeze or dehydrate.
Leeks – chop the green leaves and freeze or dehydrate.
Garlic – leave some bulbs in the ground for using the green leaves and young bulbs next year.
Legumes
Beans – French beans and runner beans can be eaten as young pods or you can leave them on the plants to mature and collect the beans in the pods.
Sweetcorn – once you have blanched and cut off the kernels for use, return the cob to the pan of boiling water. Cook for around half an hour, drain – save the liquid and once cooled, freeze the liquid. It's great for making sauces or as a soup base.
Herbs
Herb Fennel, Dill, Caraway etc. Save the seeds for adding to dishes.
Herbs – chop and dehydrate or freeze. Using an ice cube tray fill with chopped herbs and add a small amount of water and freeze or chop finely and freeze in bags.
PLEASE NOTE – Among other things, parsnip and rhubarb leaves are poisonous, do not eat them! If in doubt about whether your veg is edible, please do some research, it's better to be cautious than ill.
---
So whether you are growing your own vegetables, buying in a store or getting a veg box, there are many ways to make your food go further and to have less food waste at home.
This blog post shows you some ways to make full use of vegetables creating less waste. If you have more suggestions, please leave them in the comments on this post.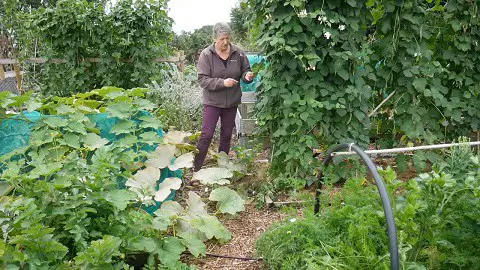 Further reading
Winter vegetable coleslaw ideas from Sow, Grow and Cook.
I find masses of useful articles and information about storing and using food at Permaculture Magazine.
Latest posts by Liz Zorab
(see all)