Gluten free Apple Berry Crumble recipe
This Gluten free Apple Berry Crumble recipe is one of those 'what have we got in the cupboards?' dishes. Last night I remembered that there was some stewed apple in the freezer. It was made from the windfall apples from my daughter's garden. Last year I collected a huge bag of them and had a day of washing, chopping and cooking them. After washing, I cut them into quarters and removed the core, then sliced them. I leave the skin on them as I prefer the texture and taste. I added a little lemon juice, some unbleached sugar and some cinnamon before cooking over a medium heat (with the lid on the pan) until they were soft, but not completely mushy. Then once the apples had cooled completely, I froze them in individual meal size bags (approximately 1lb cooked weight). It took just a few minutes in the microwave to defrost the stewed fruit ready to make into an apple and berry crumble. Or if you prefer not to use a microwave, leave the apple in the fridge to thaw completely before use.
(Disclosure. Some of these are affiliate links. In other words, if you make a purchase we may earn a small commission. View our full disclosure statement)
One of the nicest kitchen gifts I have received is a nutmeg grater, it grates the nutmeg finely and evenly and has a small compartment for storing a nutmeg.
Gluten free Apple Berry Crumble recipe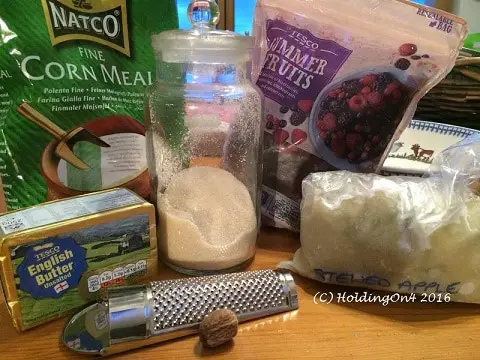 Ingredients
1lb stewed cooking apples
4oz frozen mixed summer fruit berries
5oz finely ground cornmeal
2 1/2oz unsalted butter
2oz caster sugar
pinch of salt
pinch freshly grated nutmeg
Method
Pre-heat oven to moderately hot, 190C, gas mark 65 170fan, 375F.

Put cornmeal and salt and nutmeg into a bowl, rub in butter to form medium to fine crumbs and mix in sugar.
Cover the base of a flan dish with stewed apple, add frozen berries. Sprinkle the crumb mixture over the top and spread to the edges.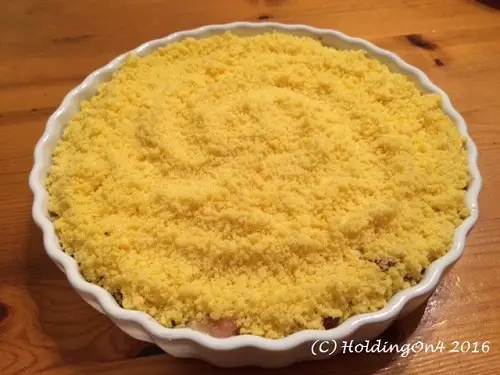 Bake in middle of the oven for 20 -25 minutes or until golden brown.
Leave to stand for 10 minutes before serving.

Can be served hot or cold. Perfect accompaniments include fresh cream, ice cream or custard.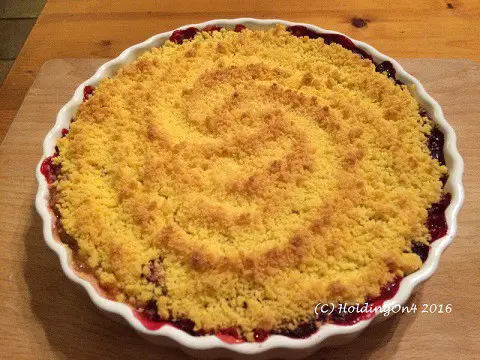 About the author. Liz works full time on the smallholding – known as a homestead in USA – and as a content creator in various media including writing for magazines, blogs and most recently her first book Grounded. She allows films, produces and edits her own videos for her YouTube channel Liz Zorab – Byther Farm. Most of her work focuses on gardening and homesteading and occasionally she writes uplifting, life-focused articles like 10 Small Changes to Make Life Better. Liz also likes to share her favorite recipes like this gluten free apple and berry cumble.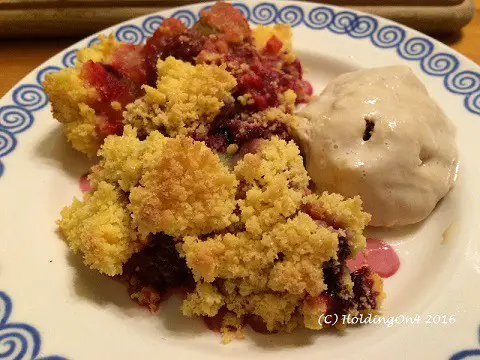 Originally published 9th January 2016 on another Byther Farm blog. Updated for this website 6th December 2020.
Latest posts by Liz Zorab
(see all)