Fresh food veg box direct to your doorstep.
Are you looking for locally produced veg that is as fresh as possible?  
We produce seasonal veg boxes delivered locally or you can collect from the farm. As we are moving premises during 2021, there will be no veg boxes available.
We anticipate the next veg box scheme to be running in 2024.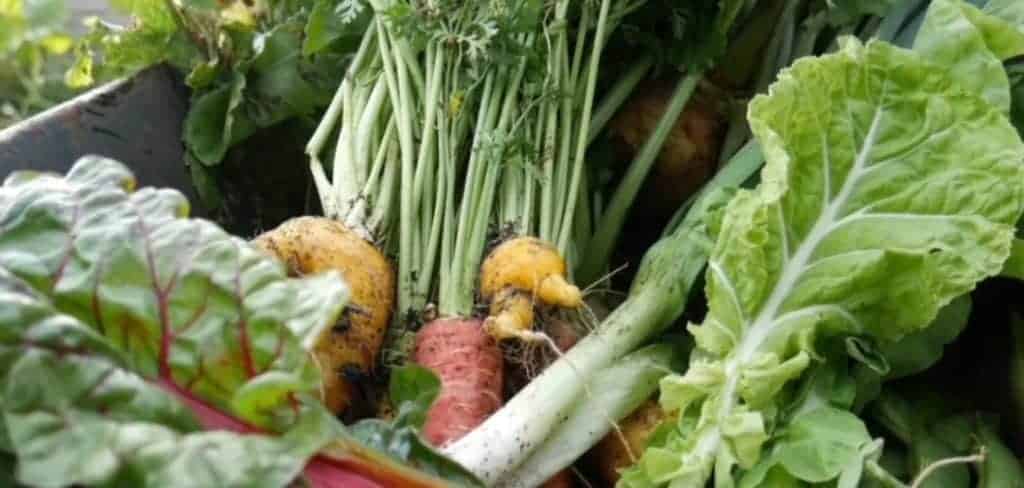 We harvest Vegetables, herbs and fruit on the day of delivery or collection. This ensures that they are as fresh as possible.
Our Local Veg Box scheme is a CSA scheme (please see What is a CSA below). By joining our CSA scheme you become a valued part of our smallholding.
Standard Veg Box £ per weekly 'share' contains a minimum of 7 different vegetables, herbs and fruit. Large Veg Box £ per weekly 'share' contains the same selection of veg, but has more of each variety. 
​
When available (because our girls are fussy layers) – 
6 chicken eggs £
6 duck eggs £
HOW IT WORKS.
Each 'share' of the harvest is picked and packed by hand and like us, is subject to the joys and not-so-joyous effects of the weather.
You share in the glut of an abundant harvest. And when the harvest is not so abundant there will be less of whichever vegetables are affected. 
We grow using bio-intensive methods to provide as much food as possible from the space we have, without the use of 'chemicals' like herbicides, pesticides etc.
Our vegetables are not evenly sized and are not often straight, for example, expect wonky carrots!.
We do not wash the vegetables, herbs and fruit, therefore we recommend that you wash all produce prior to use.
At the height of the growing season you may receive an abundance of vegetables, fruit or herbs. This makes it an ideal time to preserve some for use during the winter months. Or to share them with family and friends.
PAYMENT FOR YOUR VEG BOX.
Payment is made in advance for the whole season, therefore we know how much food we need to grow for the year. Except where this would exclude you from joining the scheme. In this case, please talk to us and we may be able to arrange for monthly payments in advance. 
Payments accepted by bank transfer, Paypal or cash, we'll send you details with your membership contract.

If you are away or on holiday, you will need to arrange for someone else to have your veg box delivered to them or to collect it from the farm.
You can cancel your membership at any time by giving us one month's notice in writing, which will allow us some time to find a new member to receive your veg box.
We deliver to local pick up points or you can collect from the farm. Confirmation of the delivery or collection day is in your membership contract.
We occasionally offer volunteering opportunities.
WHAT OUR MEMBERS SAY.
Don't just take our word for it, here's some feedback from our 2019 and 2020 CSA Veg Box schemes.
I have been having the veg boxes since Liz started and am loving the variety and quality of the produce. I love that I am supporting local organic growing and getting such lovely fresh veg every week.
– Tracey
I had a standard veg box for the season and absolutely loved it. Plenty of vegetables for 2 people, all super fresh and so much nicer than shop bought. Liz also provided suggestions on what to use veg for and introduced me to roasted garlic which is just delicious.
– Lilli.
​I really enjoyed receiving the veg boxes from Liz this summer as I met quite a few vegetables I hadn't met before. I am not normally very adventurous with my meals but Liz would explain what each colourful vegetable was, and even included edible flowers too, and each meal gained something new. My boys were delighted to see such colour in their food.
-Helen
​​Liz runs a unique veg box scheme. You aren't just buying fresh quality vegetables, you're a part of the yearly lifecycle of the amazing land it's grown on!
 – Louise Herzog, owner Revolution Performance Mindset.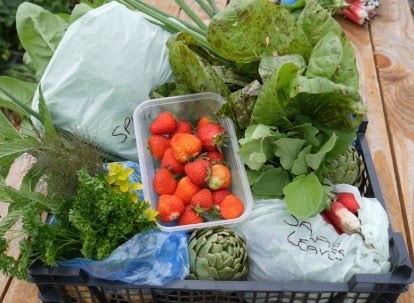 WHAT IS A CSA?
It's not just a veg box scheme!
Community Supported Agriculture (CSA) benefits both customers (members) and food producers (farmers).
When you agree to become a member of Byther Farm CSA, you will be able to build a closer relationship to the food you are eating. You'll be able to visit the farm, talk with us and see how we grow. You'll be supporting the local economy and ensuring that your food hasn't travelled the earth to reach your table. And it helps us as farmers to use ecological methods which benefit our environment whilst still being highly productive.
As a member of Byther Farm CSA you'll be committing to paying for a whole season's worth of vegetables as the season begins. This will help us to accurately plan and budget for the seeds and materials that we will need for the year ahead.
Using a CSA, the farmer and the consumer can share in the risks and rewards that come with producing food locally, seasonally and naturally. In a nutshell, this means accepting that the success of each and every crop varies from year to year, which means sharing the low yields as well as the highs of an abundant harvest.
By purchasing a 'share' of the vegetables and fruit that we produce you will become an active and valued member of our small farm. You are also invited to visit the farm to see how and where your food is grown.
Other benefits of a CSA 'share' membership –
Customers 
Direct selling allows for a fairer price for both us and you. 
Fresh produce, picked on the day of delivery and fewer miles travelled. 
Our crops grow without artificial pesticides, herbicides and other chemically based products. 
You will be eating seasonally which means your food should contain higher levels of essential micronutrients (with all the benefits that can come with this).
Farmers 
Growing fruit and veg needs careful planning and organising, often months before the first crop is harvested. By knowing we have the commitment from members at this time provides us with invaluable support. 
When we know the volumes of vegetables and fruit which we will need to grow, wastage can be reduced.
Knowing where the food we produce is going and who it will be feeding makes us feel even more keen to grow and proud to be farmers.
Find out more about Community Supported Agriculture at the CSA Network.