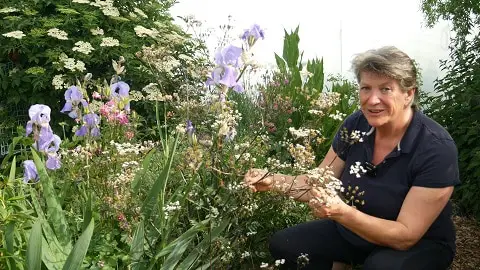 The flower gardens at Byther Farm in Monmouthshire provided colour and contrasting textures. They were grown to attract and support a wide variety of pollinating insects. The following is a list of many of the flowers growing in our gardens as at May 2020. A video tour of our flower gardens can be found here.
2021 update. In our new home in Carmarthenshire, we plan to have much larger areas of cut flowers and prairie style planting to provide even more habitat for wildlife and to provide greenery and filling materials for cut flower bouquets.
(Disclosure. Some of these are affiliate links. In other words, if you make a purchase we may earn a small commission. View our full disclosure statement)
Roses
Most of our roses are grown from cuttings. It is easy to take cuttings of roses and although our success rate is only 35-40%, that still provides us plenty of new plants for the flower gardens at Byther Farm.
Patio rose
Pink and cream patio rose
Shrub rose
Rose, My Valentine
Climbing rose
White climbing rose
Red climbing rose (possibly Pauls Scarlet)
New Dawn climbing rose
Gertrude Jekyll climbing rose
Herbs
There are two designated herb beds near the kitchen, however I have also planted tall and groundcover herbs across the whole of the food forest, vegetable gardens and the flower gardens.
Dill
Bay Tree
Lavender
Rosemary
Chives
Angelica
Monarda
Wildflowers
Teasel
Herb Robert
Flowering trees and shrubs
Plum and damson trees
Continus
Hardy Fuchsia
St John's Wort, Hypericum Hidocote
Coronilla Valentina subsp. Glauca
Euonymous
Spirea, Bridal Bouquet
Salvia, white
Herbaceous perennials
Red Lobellia, Starship Scarlet
Peony, Sarah Bernhardt
Nepeta
Geranium Phaeum
Aster, purple
Aquelegia
Dicentra Spectabilis
Achillea
Delphinium
Penstemon
Coreopsis
Echinacea
White Lavender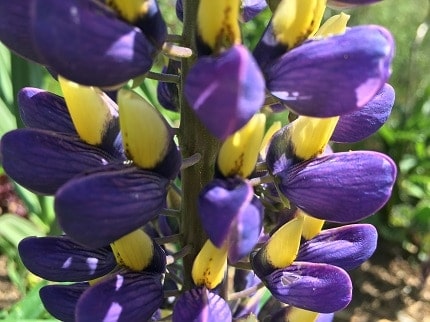 Heuchera
Anthriscus Sylvestris 'Ravenswing'
Flowering annuals and biennuals
White Borage
Forget me not
Sweet Rocket
Californian Poppy
Flowering bulbs and corms
Star of Bethlehem
Iris
Dahlia, Cafe au Lait
Vegetables
Chard
Asturian Tree Cabbage
Red Orach
Leeks
Artichoke or if you'd prefer, the purple variety.
Further reading
Book – The Hardy Fuchsia Guide
Flower Gardens at Byther Farm